This is a roundup of what CREST has been up to in May 2019. You can stay up-to-date with all our work by signing up to the CREST Newsletter, and have CREST news and updates delivered straight to your inbox.
With Matthew taking some well-earned leave, this month's newsletter gives me as director the opportunity to discuss the impact of CREST's research. Influencing policy and practice has always been a critical yet challenging aspect of what CREST does. Its a challenge made immeasurably easier by the quality and dedication of CREST researchers, as well as our communication and research-to-practice teams. However, in a bid to do more, we recently commissioned an independent review of our impact. Part of the review is a survey: if you haven't already, please provide your experiences and views by completing either our academic or practitioner questionnaire. Your views will help us better deliver impactful research in the future.

Many of you will note the not-so-coincidental timing of the impact review just prior to REF2021, the UK's review of University's research excellence. CREST is keen to play a role in supporting researchers put together their Impact Case Study for REF2021. If that's you, do please talk with us, if you haven't already.CREST's role in promoting social and behavioural science research and the engagement between users and researchers has grown immeasurably over the last three years. As a result, the Leadership Team decided earlier this year to advertise for an Executive Director, who's role it will be to give further capacity and leadership to our communications, networking and capacity building activities. I'm delighted to announce that Matthew will be stepping up into this role on 3 June; his first duty being to find a new Communications Director to follow in his stead!

As always, lots of news and opportunities are below, though please don't forget to complete the impact questionnaire.

Paul Taylor
Director of CREST
---
Help us provide evidence on the influence of CREST's research by completing a questionnaire addressing the reach and impact of CREST's work for practitioners and academics.
As we move towards our fourth year of operation we are interested in analysing the impact of our activities and outputs. To that end we have commissioned an external agency, Lucidity Solutions, to provide an independent account of the impact of CREST's research in our first three years of operation.
This project seeks to better understand and document what our researchers have achieved by tracing the journey of individual projects, from initial research co-design through to changes in awareness, understanding, practice, policy, training, or operational decisions.
As part of this process Lucidity Solutions have released two questionnaires for completion: one by users of our research (for example, but not limited to, civil servants, police officers and teachers – in the UK and overseas); and another for use by academic researchers.
The questionnaires are being administered by Lucidity Solutions. Results will be aggregated and no individual responders will be identified in any reports or outputs of this review.
The questionnaire for users of CREST research can be found here: https://www.surveymonkey.co.uk/r/CRESTusers
The questionnaire for academic researchers can be found here: https://www.surveymonkey.co.uk/r/CRESTresearchers
If in doubt about which questionnaire you should complete, please complete the  user questionnaire.
Both questionnaires will remain open until 5pm on 28th June.
---
Check out our latest reports
You can find all our CREST reports here: https://crestresearch.ac.uk/category/resources/reports/
Want to see all CREST published reports, guides, posters and journal articles in one place? 
We've produced a lot of CREST outputs since last year and we're always working on ways to make them easier to find. The new catalogue helps by making it easier to find guides, reports and journals that relate to the same topic.
You can download the catalogue 
here
.
---
The Illustrated Guide to Keeping Secrets Online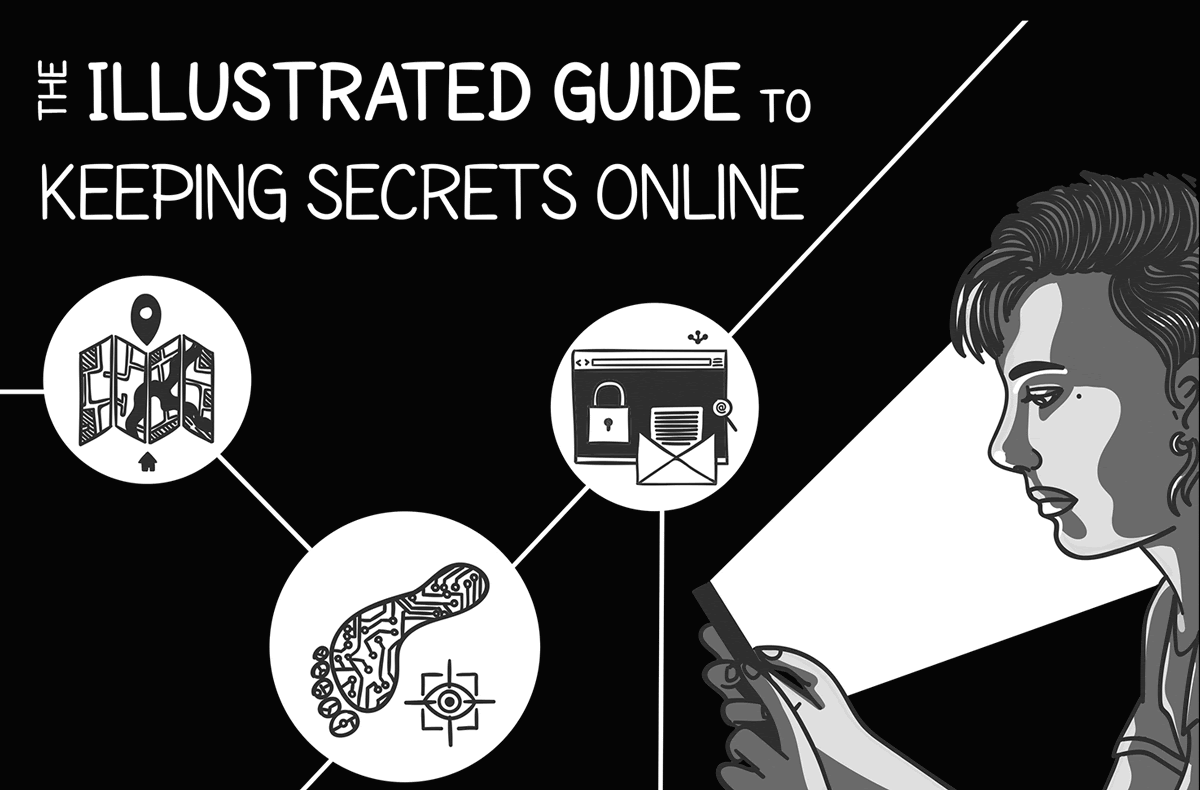 Check out our latest reports
CREST have been busy producing an illustrated guide for the Keeping Secrets Online programme, carried out by the University of Dundee. The Guide summarises their systematic review, in an easy-to-read format, made up of three scenarios supported by illustrations and research insights.
The three scenarios are:
'Supply and purchase of illegal drugs' considers how individuals communicate covertly online.
'Escaping from intimate partner violence' considers how individuals conceal their identity online.
'Infidelity' considers how individuals create and maintain covert identities online.
The Guide is designed for use within an interactive workshop, with the aim of stimulating discussion, on how the strategies, barriers and enablers uncovered by the research can be applied by people who need to keep secrets as part of their job.
The facilitated workshops ran this month and have been a huge success, both in terms of turn-out, engagement and achieving the aims of the workshop.
If you believe this workshop could be useful to you, please contact us at crest@lancaster.ac.uk
---
Crest Security Review #9 – Data
Have you read our latest issue of CREST Security Review?
Issue 9 of CSR focuses on Data, and in particular on how the social and behavioural sciences can help us see the value that data and computer science can bring to understanding and countering security threats.
You can read, download and share this issue on the newCREST Security Review website here.Don't forget you can also download the new CREST Security Review mobile app. All issues of CSR, past and present, are available to browse online and offline.
---
Opportunities and events
UKRI-JST Joint Call on Artificial Intelligence and Society
The Economic and Social Research Council (ESRC), Arts and Humanities Research Council (AHRC) and the Research Institute of Science and Technology for Society (RISTEX) of Japan Science and Technology Agency (JST), are pleased to announce a joint call for proposals exploring the impact of Artificial Intelligence (AI) technologies on society and the economy. The call is now open and the deadline for applications is 17 July 2019.
Scope of the call
This call aims to foster collaboration between UK and Japanese social science, arts and humanities researchers around the theme of Artificial Intelligence and its impact on society. The call aims to promote interdisciplinary and transdisciplinary research and to position the social sciences, arts and humanities as an integral part of the process for developing and exploring AI systems, and ensuring that those systems provide the greatest benefit to people and societies. Ultimately, the call aims to contribute towards the development of a platform for effective and sustained dialogue and engagement between a range of researchers and other relevant stakeholders, eventually leading to practical implementation and policy recommendations.
Closing Date: 17 July 2019
Successful awards will be announced in November 2019 and will be expected to begin in January 2020.
For more information, and to apply, click here.
————————————————–
Research Associate
The University of Kent is currently recruiting a Research Associate to work for 18 months on a new interdisciplinary EPSRC-funded project entitled "PRoCEED: A Platform for Responsive Conversational Agents to Enhance Engagement and Disclosure". PRoCEED aims to engage  in  a systematic research study to understand how the characteristics of conversational agents can influence how users engage and disclose sensitive/pertinent information. This project represents a collaboration between the University of Kent, University of East Anglia, Cranfield University and Oxford Brookes University.
Your role at Kent will contribute to the entire project but will be specifically focused on researching, and providing an in-depth understanding of, what constitutes sensitive information and also identifying the critical factors that can impact a user's perceived trust in a conversational agent.
Your key activities will include: designing and conducting a series of user studies, involving both large-scale experiments/surveys and in-person interviews; analysing data collected from user studies and other experiments using quantitative and qualitative data analysis techniques; and presenting research outcomes from the project at academic and industry venues.
For further information and to apply, visit the University of Kent jobs website. For informal queries about the role, please contact Dr Jason R.C. Nurse (j.r.c.nurse@kent.ac.uk).
Closing Date: 9th June 2019
Interviews are to be held: w/c Monday 17 June 2019
For more information, and to apply, click here.
————————————————–
Current Themes in the Study of Terrorism and Political Violence
6 September 2019 at Coventry University, CoventryThe Centre for Trust, Peace and Social Relations at Coventry University are hosting the 4th Annual Postgraduate Conference of the Society for Terrorism Research. The conference this year is focusing on the current themes in the study of terrorism and political violence and will take place on the 6th September 2019. Click here to see the Call for Papers
We are extending the deadline for abstracts until 14th June 2019.
The cost of the conference will be £45, which will cover all refreshments and give postgraduates one year's membership in the Society for Terrorism Research for 2019. Accommodation and Travel, if required, will be at the attendee's own expense.
————————————————–
PhD – Assessment Of Motivational Processes
Security Lancaster, Lancaster UniversityApplications are invited for a 3.5-year EPSRC DTP PhD studentship in motivation and natural language analysis at Lancaster University. Beginning October 2019, the student will be based in Psychology and supervised by members of Security Lancaster, led by Dr. Ryan Boyd.
The PhD will primarily focus on how ubiquitous motivational processes can be accurately captured, better understood, and ultimately predicted via text and language analysis methods. By applying current and innovative computational techniques to natural language data at both the individual and group level, the PhD will seek to understand how our personal and social psychological processes both reflect and are influenced by the core factors that drive human behaviour. The kinds of questions the PhD might address include:
Is it possible to determine a person's core motivating factors from their language?
In what ways are social psychological processes able to be accurately quantified at the group, cultural, or societal levels?
Are there normative drivers of affective states and, if so, how can they be assessed?
Can stable individual differences in the above factors be reliably discerned via language analysis?
To apply, please email a CV, transcript of marks, 1 academic reference, and a 500 word statement outlining why you are interested in this PhD, to p.bennett4@lancs.ac.uk, using the Subject 'PhD application.'
Deadline: 20th June 2019
For more information click here.
---
Out and about
Discussions
Sarah Marsden, Monica Lloyd and Paul Thomas took part in a roundtable, chaired by Gordon Clubb, at Leeds University, 'Transforming Dangerousness? Reintegrating Foreign Fighter Returnees'. This panel discussion organised by The Centre for Security Studies examined critical issues of de-radicalisation and reintegration of foreign terrorist fighters and violent extremist offenders.
Jasjit Singh was part of a panel at the Religion Media Centre 'Exploring Belief' conference:  https://religionmediacentre.org.uk/events/.
Jasjit was also invited to 10 Downing Street to participate in the annual Vaisakhi event.
Publications
Waring, S., Alison, L., Humann, M., & Shortland, N. (2019). The role of information sharing on decision delay during multiteam disaster response. Cognition, Technology & Work.  
Davidson, B. I., Jones, S. L., Joinson, A. N., & Hinds, J., (in press). The evolution of online ideological communities. PLOS ONE. DOI: 10.1371/journal.pone.0216932
Ellis, D. A., Davidson, B. I., Shaw, H., &  Geyer, K., (in press). Do smartphone usage scales predict behavior? International Journal of Human-Computer Studies.
Ellis, D. A., Davidson, B. I., Kaye, L. K., (in press). Should smartphones be banned for children or does cyberpsychology have a bigger problem? Cyberpsychology, Behaviour, and Social Networking.
SPRITE+
CREST associates Prof Emma Barrett (University of Manchester, former CREST Research to Practice Fellow) and Dr Stacey Conchie (Lancaster University) were successful in their bid to lead a new EPSRC Digital Economy NetworkPlus.
The Security, Privacy, Identity and Trust Engagement NetworkPlus (SPRITE+) will bring together experts from academia, business and industry, government, and civil society to tackle existing and emerging challenges to trust and security in the digital age. We're particularly keen to build productive collaborations between humanities scholars, behavioural and social scientists, and technologists.
SPRITE+ will fund studies and pilot projects, hold workshops and other events, and facilitate internships and staff exchanges.
SPRITE+ represents a consortium of universities, led by Emma. In addition to Stacey, other co-Is are Prof Bill Lee (Imperial College London), Prof Vladimiro Sassone (University of Southampton), and Prof Sakir Sezer (Queen's University Belfast). Project Partners include Arm, BT, Greater Manchester Police, LORCA, Nasdaq, National Grid, the Office of HM Chief Scientific Advisor for National Security, the Open Data Institute, South Korea's Hanyang University, Tiani Spirit, and Titan IC – with more to follow.
SPRITE+ will launch this September. Meanwhile, please get in touch with emma.barrett@manchester.ac.uk with any questions or comments. Read the full press release.
---
Downloaded the free CSR app!
CREST Security Review has a new website and a mobile app to further broaden the way people can engage with its content.
The free app, available on both IOS and Android platforms provides a number of features:
Intuitive navigation – making it easy to browse issues and articles of interest.
Offline access –  read articles or whole issues by bookmarking them to read later.
Search and discover – navigate easily to the topics that interest you most as well as be alerted when new items are added.
Favourite articles – our synced bookmark feature allows you to conveniently store all your favourite CSR articles in one place, for you to access later via any of your devices.
Responsive design – you can read CSR on your mobile, iPad, Android tablet or desktop, meaning you no longer must download the pdf (although that option is still available).
New issue alerts – opt in for notifications and you'll be the first to know when the latest issue arrives.
Alongside the mobile application, a new website at www.crestsecurityreview.com gives CSR its own home, making it easier to access, read and share articles. Favourites and bookmarks are synced with the application.
Download now:
Find the free mobile app on your app stores, or via this link at: www.crestsecurityreview.com/appdownload
Access the new website direct at www.crestsecurityreview.com, and keep an eye out for our next issue, coming soon.
Feedback:
We want to know what you think! Do let us know what you think of our new app and website by emailing us at: crest@lancaster.ac.uk.
Subscribe to our YouTube channel
Watch CREST researchers talk about their topic of study
Last year we uploaded several videos of our researchers, talking about their studies, to our YouTube channel. These videos are another way to the share our fantastic CREST-funded research on security threats.
A year on and we catch up with familiar faces on their latest findings and where their research is headed, as well as introduce some of our new commissioned research. You can watch all the videos here.
How can research on memory help with gathering human intelligence? This is the subject of Jordan Nunan who is focusing on covert police sources and how their recall of information can be improved. In this video he talks about his CREST-funded doctoral research and what he hopes to find.
Subscribe to the CREST channel!
DON'T FORGET to subscribe to our channel – click the big red subscribe button here when logged into youtube. 
By subscribing new videos will automatically appear in your feed, and it'll be easier to to find any CREST video without having to search manually for our channel.
We encourage you to share these videos, which you can also view on our website here. 
All of our videos are available under Creative Commons licence, which means you are free to share but please attribute by linking back to our youtube channel and website.
Read and share:
---
Copyright notice
We believe that our work should be shared as widely as possible. Therefore we licence all of our blogs, guides and other resources on this website under the Creative Commons Attribution-NonCommercial-ShareAlike 4.0 licence. This means that unless otherwise noted, you can republish our content online or in print for free (although you can't sell it). You just have to credit us and link to us. For more information visit our copyright page.